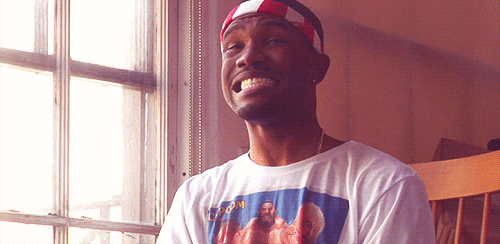 Who would've thought that Frank Ocean would bless us with two albums last year–and STILL drop more heat after releasing them?! I for damn sure didn't. To be honest though, I still have to set time aside to explore Frank's visual album Endless.
For those of y'all who aren't keeping up, back in February, Frank Ocean started his 'Blonded' Radio Show on Beats 1 Radio on Apple Music.
Since then, we've received six new Frank joints all stemming from his 'Blonded' radio show, one of them being an update of the Endless track "Slide on Me" featuring a Young Thug verse.
Here's a quick update on all things Frank Ocean:
March 10th, 2017– "Chanel"
The song is somewhat of an ode to the French fashion brand Chanel and its logo–a dual side "C". The dual-side logo is symbolized to represent Frank's sexuality, a topic taboo for some but not foreign to Frank's music.
February 24, 2017: "Slide"
"Slide" is a major collaboration produced by Scottish DJ/producer Calvin Harris featuring Frank and Migos. According to Genius, the song illustrates a wealthy lifestyle wanted by those wishing to live within more affluent means.
Harris originally teased snippets of "Slide" on his Snapchat just days before the song's release. Believe it or not, the song is a future hit for all your upcoming summer-time vibes!
April 8, 2017: "Biking"
Frank recruits Jay Z and Tyler the Creator to create the mind-wandering single "Biking." Ocean has created music with Tyler and Jay Z on separate occasions; however, this marks the first track they've all done together. Simply stated, the song is about riding bikes meanwhile Hov uses the song as a metaphor about life among other things.
April 24, 2017: "Slide on Me" feat. Young Thug
"Slide on Me" originally came from Ocean's Endless album. Yesterday via his "Blonded" radio show, "Slide on Me" was re-released this time featuring a Young Thug verse.
April 22/24, 2017: "Lens" and "Lens V2" featuring Travis Scott
"Lens" marks the third song after "Biking" and "Chanel" released via Blonded. "Lens" follows a common thing of self-discovery vs. how Frank is viewed through the eyes of his friends and family.
Before I wrap this up, I just want to thank you Frank for continuing to bless us with more of your musical GENIUS. Honestly, he could releasing random songs without an album and I'd be content with that..as all of us should!
Stream all of Frank's new songs on all available platforms such as Apple Music, Tidal, and Spotify.